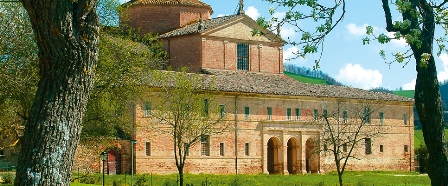 BARCO DUCALE, PRESTIGIOUS MONUMENTAL COMPLESS JUST A FEW METERS FROM OUR BOUTIQUE HOTEL
The Barco Ducale is located northwest of the city, 200mt from our BOUTIQUE HOTEL.
Founded in 1465 by Federico da Montefeltro, it was one of the favorite places of Francesco Maria II of Rovere. It measures about 1200 square meters per floor, two floors plus a basement used as a cellar.
Inside there was a small 14th-century convent of smaller Franciscan friars. The structure offered the Duke a possibility of spiritual refreshment as well as physical recreation. It is connected to the Doge's Palace by a river that knights and ladies climbed by boat. The structure, due to its proximity to the river, began to present structural problems, so that in 1719 a part of the convent collapsed. It was decided to demolish the structure and reuse material for the new building.
Today it is undergoing a long and meticulous restoration work, already completed outside, which will bring it back to the original splendor. During the works, 700 frescoes, including an "Last Supper" of the Pergolese Gianfrancesco Ferri, were brought to light. It is home to ceramic and artisan workshops and artworks of the Civic Museum, in collaboration with the Amici della Ceramica Association, and a music lab.
Like every summer on Sunday, July 9, the fourth edition of Miss Barco returns to the footbridge. To present the evening as always Nino Palombaro and to put some pepper in the evening the beautiful illusionist Elena Roggi. To animate everything, our jury will think, including in charge of Saida Habibi who will award the new Miss for the expected crown passage. It's an opportunity to spend a cool evening in a cool place and taste the very good and famous "Urbanies Crostoles" prepared by our women in the kitchen.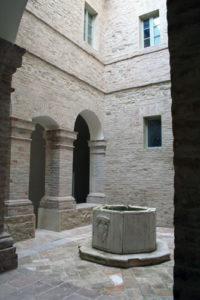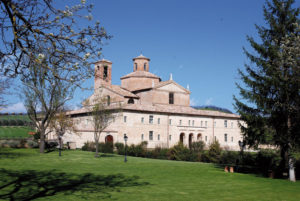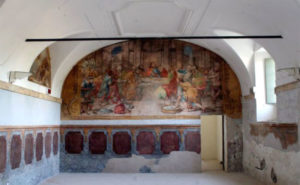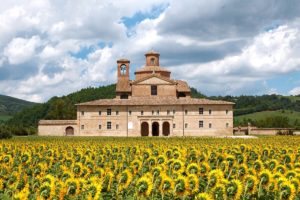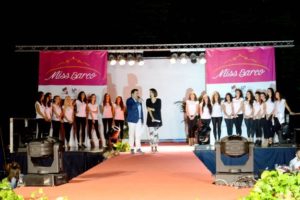 HOTEL DI DESIGN
Surprising details, pleasantness that surrounds you: the hotel Bramante and SPA is your boutique hotel in Urbania, in the heart of Montefeltro Area.
Info + Booking
+39 0722 317280 service 24/24 hours